Welcome to the first in a series of related posts on competitive research I've titled "Peeking Under Your Competitior's Skirts". In online marketing, as in any traditional form of advertising, having a firm understanding of your competitors and the demographics of their customers is a powerful thing. In this blog series I am going to share some of the most effective competitive research tools that are available online.

DoubleClick Placement Tool
For the first post I am going to focus on a tool I've just recently discovered. It is called the DoubleClick Ad Planner. For anyone not familiar with DoubleClick, it is a program that provides ad-serving services and is best known for its Pay-Per-Click integration tools. A small point of interest, DoubleClick was purchased by Google in 2007 for a staggering $3.1 billion.
How To Access the Tool
DoubleClick is now a feature of Google's Adwords program, and can be accessed from within the Adwords Interface (to create a Google Adwords account click the link). Here are the steps for accessing the tool.
Login to your Google Adwords account.
Under the global navigation link Reporting and Tools, click Placement Tool.
Insert your keyword and website address, click search.
An expansive list of websites should appear.
Click on the magnifying glass beside the website you would like to research.
What Types of Data Does it Provide
There are many unique uses for this tool, however, I am going to focus on the data I find the most valuable. I will be referencing a few descriptions provided by Google where applicable.
Traffic Statistics
The traffics statistics provide data on Unique Visitors, Reach, Page Views, and Total Visits.
Traffic statistics are estimated by combining sample user data from various Google products and services and opt-in direct-measured site-centric data. 
Daily Unique Visitors
This chart displays the estimated Google Analytics visitor data. It is valuable in creating ballpark figures of your competitor's monthly/annual traffic.
Age
What would demographics data be without age. Here is a nice breakdown of the age groups it features.
Education
Education is also an important feature of demographics, and the placement tool provides some excellent data.
Gender
Again the tool provides really nice gender demographics.
Household Income
Cha-ching. Nothing like having more data on the household income of your target audience.
Sites Also Visited
I found this data to be extremely valuable. It provides a list of related websites that can be scoured for data.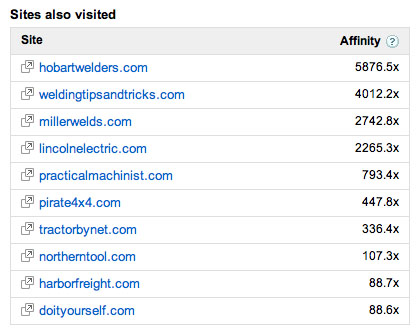 Audience Interest
This metrics provides information on related areas of interest.
 The affinity score, which appears on a site's profile page, shows the relationship between audiences of two sites or between a site and a keyword. That is, the affinity score estimates how many times more likely you are to reach an audience who visits a specific site or searches for specific keywords versus an audience on the internet overall.
Where Does the Data Come From
This is always one of the first questions I asked when I am reviewing data. Where is the data coming from? It is of no use to collect data that is being mined from outdated sources. I could probably have paraphrased this content but I think Google did a nice job of explaining it. Here is their official statement.
DoubleClick Ad Planner combines information from a variety of sources including anonymized, aggregated Google Toolbar data from users who have opted in to enhanced features,  publisher opt-in anonymous Google Analytics data, opt-in external consumer panel data, and other third-party market research. The data is aggregated over millions of users and powered by computer algorithms.

In addition, DoubleClick Ad Planner only shows results for sites that receive a significant amount of traffic, and enforces minimum thresholds for inclusion in the tool.
The Drawbacks of the Tool
Like many competitive analysis tools, the placement tool only provides data for websites that meet certain criteria relating to their traffic and quality score (among other things). So if you are looking to mine your regional competitors websites for data you may be out of luck.